10.0 This figure is not in my book. I didn't find him in time. I suppose it is not in the strictest sense a snow baby, but to me it fits. I did not realize until I photographed this that there is brown coloring (think cocoa) on the boy's face and hands. My eyesight isn't great, and I guess I was so charmed by the piece I didn't notice. I would not sell it except that it became a duplicate. 2.25+" $85


Pic 7.3b At nearly 5.5" this Heubach snow baby container piece makes a huge statement! It was made about 1910 when so much of the work in porcelain factories was done by hand and by skilled artists. The container itself is wonderfully molded. The children are dressed in period clothing, and they appear to huddle together on a sled made of wooden planks. The base of the piece is very cleverly made so that you can't tell where the tree ends and the mountain begins. Look at the drape of the boys' shirts and the folds of the girl's skirt. Beautifully crafted! $1200 Pending
Mary Morrison's German Snow Babies
The pieces for sale on this page are my own. On other pages are pieces I am selling for other owners. One owner will consider reasonable offers. I've made that clear at the top of the particular page. Prices on my own "babies" are firm. as are the other pieces offered for sale, except for the above exception.
I accept a personal check, cashier's check, or money order. Shipping costs are extra, but I do not charge a handling fee nor do I charge for shipping materials. I will be happy to give you a shipping estimate for any pieces you are interested in.
I will try to meet deadlines for you, gift wrap for you, send notice of purchase, etc, but I, too, am sometimes otherwise occupied — especially near Christmas. Please plan ahead.
Hope you find something you love here!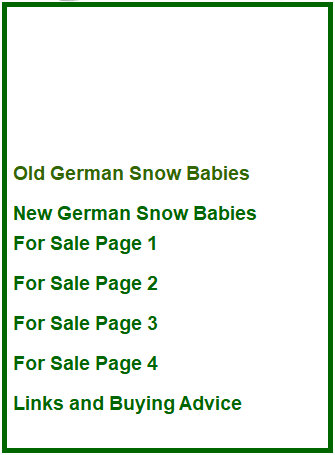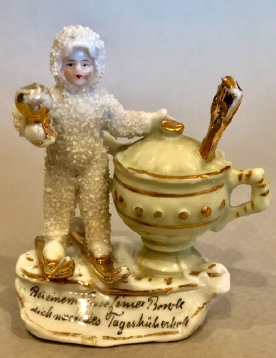 2.0 Galluba & Hoffman, purchased after the book. Boy teaches his friend to ski. Notice single ski pole and lovely detail to girl's outfit. Numbered on the underside, just as expected. 3.75" $245
3.4 Book example. Dressed in a hat with ears and wearing a large blue sash, he is ready to play a game with a yellow ball. 3.87". $120 SOLD
6.16 A complete set of the adorable googly-eyed gnome knotter (nodder) band. The paint is excellent! 3.5+" each. They make a sweet display grouping on their own, which is how I have used them. $150 SOLD
9.34 The piece shows the perils of sledding no-hands. And has the older girl even noticed that the other has fallen off? 3.25" The "snow" under the younger child has been replaced (There is a slight color and texture difference.). I've never seen another example to know what should have been there. $110 SOLD
This place card snow baby comes from the collection of Ray Early. The baby himself is felted, and twine through the place card slit sews him to the cushion. These felted babies are difficult to find, and I have never seen another this color. The pin cushion has been repaired. It appears to be very old -- perhaps as old as the baby. $65 SOLD
2.24 Two beautifully portrayed young country children. The flowers on her straw hat and in his hand are amazingly fragile. The major damage however is to her neck, which has been broken and glued.(barely visible front only). I have thought it was still lovely in my collection. The rim of her hat is not broken. It was molded that way. 4.25" $265
14.84c A googly-eyed gnome in a long red coat. The paint on this piece is not original. I purchased it with no paint and painted it during the brief time I was studying restoration. The pose is quite rare. 1.67" $22 SOLD
13.133 a Large-sized Rohring Santa carrying a lantern and large bag under his arm. Oranges on top? 3" Book Example $30 SOLD

*****PRE-CHRISTMAS SALE*****
Due to time constraints, limited pictures and information on the pieces below. I'm happy to supply more of either, but your questions won't place a hold on a piece. Pieces are often better than pictures.
Only one free piece per customer, please.
13.5bx There are many variations of Santa riding a motorcycle. This one has an unusual, enormous pack! Is this a finished piece? The spoke painting looks very professional. But there is no sign of face color. Nice deep molding. 2.25" $22 SOLD
5.27 An early piece, I believe. The snow is glazed over. German inscription reads roughly 'With a glass of this punch heal yourself after the holiday'. Well, good luck with that! 2.67" The right ski is broken off in back. See thumbnail. $45 SOLD
13.0 A new Santa from Germany. Inscribed "Germany." 3.25" Free with any other purchase.Taken
14.01 Purchased after the book. Purhaps made for Scandinavia? Nisse bringing presents to the children living in a windmill. 2" Paint wear, but very rare. $25 SOLD
7.4bx This Heubach container piece is very rare! I did not find any examples to photograph for either of my books, probably partly due to her cape which flares out to both sides and is thin and fragile. 5". $550 Sold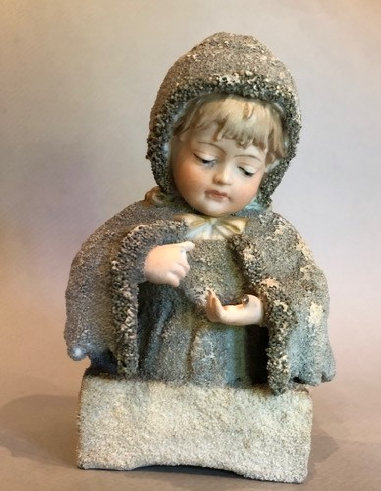 2.20b Galluba and Hoffman bust of boy in blue snow holding apple for sale. The line on his neck is not a flaw--it is his white collar. Excellent condition considering his age. 5.25" $120 Sold
2.20a Mate to the apple-selling boy, this girl is counting the coins he earns. The thumb on her left hand and one finger on her right hand are missing. the piece does not lean-- it was not facing the camera directly. 5.25" $65 Sold
2.23 This is more like a shoulder head than a bust. Even more sensitive facial features. The painter was having a very good day. 4" $120 SOLD
9.0 Pre-WWI larger girl on a sled. Small piece of one back runner is missing. (Click thumbnail.) Is she a younger version of 'snow babe'? Only example I've seen. 2.37" $75 Sold

Pg 3 Reproduction Santa. Produced in very limited quantity. Broken propellar.Gray plane 2" Free with purchase. (Select only one per person, please.)
10.254 Shackman 1979 reproduction in original pkg. Free with purchase. Taken
13.114 I bought several examples of this piece over 20 years ago. I believe they are old and original, but I can not prove it. I say this, because I am a stickler for honest advertising.
At 2.75" this one is smaller than the extraordinarily rare 13.115,. I put homemade skis on my own example. $45