Mary Morrison's German Snow Babies
Snow Babies For Sale Page 1
READ ME
I now have clickable thumbnail links , so you can see more pictures and see them larger, as well. Hooray! Some pieces for sale here are my own. Others are from the collection I was selling on eBay. That collector is willing to consider reasonable offers on his pieces for sale here. In the description of each of those pieces, "Make offer" makes that clear. Prices on my own "babies" are firm. I do not take PayPal for the sale of anything on my webpage. I will take a personal check, cashier's check, or money order. Shipping costs are extra, but I do not charge a handling fee nor do I charge for shipping materials. I will be happy to give you a shipping estimate for any pieces you are interested in.
I will try to meet deadlines for you, gift wrap for you, send notice of purchase, etc, but I, too, am sometimes otherwise occupied — especially near Christmas. Please plan ahead.
Hope you find something you love here!
10.0 This figure is not in my book. I didn't find him in time. I suppose it is not in the strictest sense a snow baby, but to me it fits! I did not realize until I photographed this that there is brown coloring (think cocoa) on the boy's face and hands. My eyesight isn't great, and I guess I was so charmed by the piece I didn't notice. I would not sell it except that it became a duplicate. 2.25+" $85


Pic 7.3b At nearly 5.5" this gorgeous Heubach snow baby container piece makes a huge statement! It was made about 1910 when so much of the work in porcelain factories was done by hand and by terrific artists. The container itself is wonderfully molded. The children are dressed in period clothing, and they huddle together on a sled made of wooden planks. The base of the piece is very cleverly made so that you can't tell where the tree ends and the mountain begins. Look at the drape of the boys' shirts and the folds of the girl's skirt. Beautifully crafted! $1300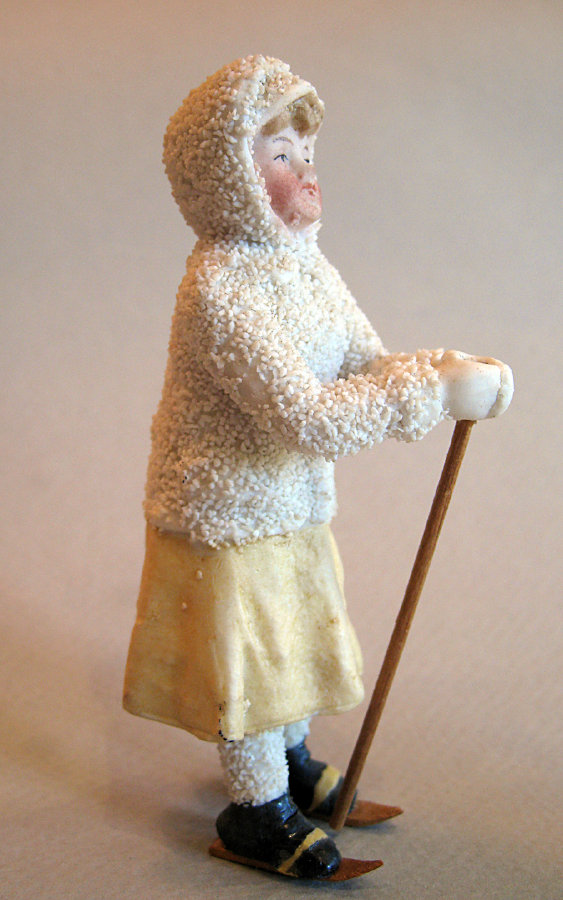 8.52 a & b These are pieces I never thought I'd have the chance to own. I saw them in a superb collection when we photographed my first book, then never saw them again for 20 years. Now I have two sets, and so I will part with one pair. There are no other snow babies made this way. I love the girl's snowed leggings,the painted straps on her shoes, her hooded sweater, and even her formal pose. I have only one other girl with snowed leggings.The hair curls on these pieces remind me of "snow babe." "b" is even shaped like "snow babe." I have thought this piece represents a boy, but perhaps instead it's a tomboy! Both have wooden skis, and the boy's skis are broken off in front. Examples of "a" are shown in Ladies Home Journal 1912 in a table display. I am selling them as a pair. If you are only interested in one of them, let me know. a measures 4.4," b is 4.1 $1960 the pair

14.40 My, oh my! I shouldn't play favorites, but I do love this little band! The faces are so carefully done on all the examples I have seen, and for some reason, I haven't seen very many of these. I have my own set of six and now I've had this set for years with only five members. The band leader is missing. The condition is wonderful! 1.5 to 2.25" $310 the set SOLD

16.5 This was 16.1, the special first piece in my first book. It is rare and desirable. The pose has whimsey because polar bears would never be expected to perform on a scooter in a circus.The condition of the piece is outstanding! 1.5" $220 SOLD
8.11 Heubach young lady dressed for snow protects her kitten in her fur muff. She is warmly dressed but billows of curls escape her hat to circle her face. Her elegant long coat is fur trimmed and coral colored. The artist has painted her ribbon soft pink in a bold move. This figure was done in at least two sizes by Heubach. Pic 8.10 in my book is 16.5" and the same colors. This example is nearly 8" tall. $245 SOLD


14.32b I have never seen a mate to this candle holder. The gnome is cheerful and wide-eyed. the container would hold a candle larger than a birthday candle and more like a Christmas tree candle. Larger than most. 2.5" $18 SOLD

10,257 This is the tiny version of the "blue-pants boy" in this series of Hertwig pieces. You may be seeing him here larger than life. He sits only about 1.25" tall. His shoes are scuffed, but otherwise he is outstanding! $75



10.200a One of a set of three snow babies on unusual sleds with incised numbers and "Germany" inscribed on them. The paint on the face and shoes have been rubbed. The boy wears a stocking cap. Book example. 1.62" $50